It's a brown girl's world and everyone else is just living in it! We're taking over — from the newly elected VP Kamala Harris, to the new faces representing our culture across countless industries, South Asian representation and ladki power continues to grow each year.
This International Women's Day, we're excited to celebrate and honor all the prolific desi women who are on the rise, and here to stay. Cheers to these badass South Asian women who are pushing past stereotypes, breaking glass ceilings, and making the South Asian diaspora proud around the world. #ChoosetoChallenge
Simone Ashley, best known for her role as Olivia in the Netflix original Sex Education, has been cast as the lead in Season 2 of Shondaland's Netflix original, Bridgerton. We stan this dark-skinned beauty who is expanding understanding and representation of South Asians in mainstream entertainment!
Reva Bhatt, Creative Director and Stylist, is taking the fashion world by storm. Her work focuses on disrupting monolithic narratives and decolonizing the gaze through multi-disciplinary storytelling. She recently began assistant styling for Kollin Carter, working with clients such as Cardi B and Kelly Rowland, and has also worked on creative campaigns for South Asian artists such as Raveena, and brands such as Kulfi Beauty and LiveTinted.
South Asian sisters Kiran and Nivi have taken the social media world by storm with their insane vocal talent and mesmerizing harmonies, creating fusions of classic Carnatic ragas and pop songs. With over 1M followers on TikTok and collabs with stars like Jason Derulo, this duo is just getting started.
You've probably heard of the recent buzz around the badass Dr. Swati Mohan, the female scientist behind NASA's Mars 2020 mission. She was the guidance and control operations lead for the mission and helped confirm it's successful landing. She was seen wearing a bindi in the official pictures, instilling pride in Indian Americans across the country and showcasing the importance of representation.
Mahoor Jamal is a Pakistani fashion illustrator and photographer who discovered art in her gap year before starting medical school. Her unique style is moodier than your typical South Asian aesthetic, and she particularly stands out for her precise use of inks in her artwork. Mahoor already has over 45k fans on Instagram, and has collaborated with several top fashion designers.
Sonia Syngal was appointed the CEO of Gap in March 2020, making her the highest ranked Indian-American female CEO of a Fortune 500 company after Indra Nooyi stepped down as PepsiCo head in 2018.
London-based designer Priya Ahluwalia draws inspiration from her Indian-Nigerian heritage by repurposing vintage materials in factories that employ rural women and pay them fairly. The British Fashion Council just awarded her The 2021 Queen Elizabeth II Award For British Design "for her active contribution to changing the industry for the better, her work in pioneering responsible sourcing and manufacturing techniques, while telling the stories of those who make her clothes and the communities she works with."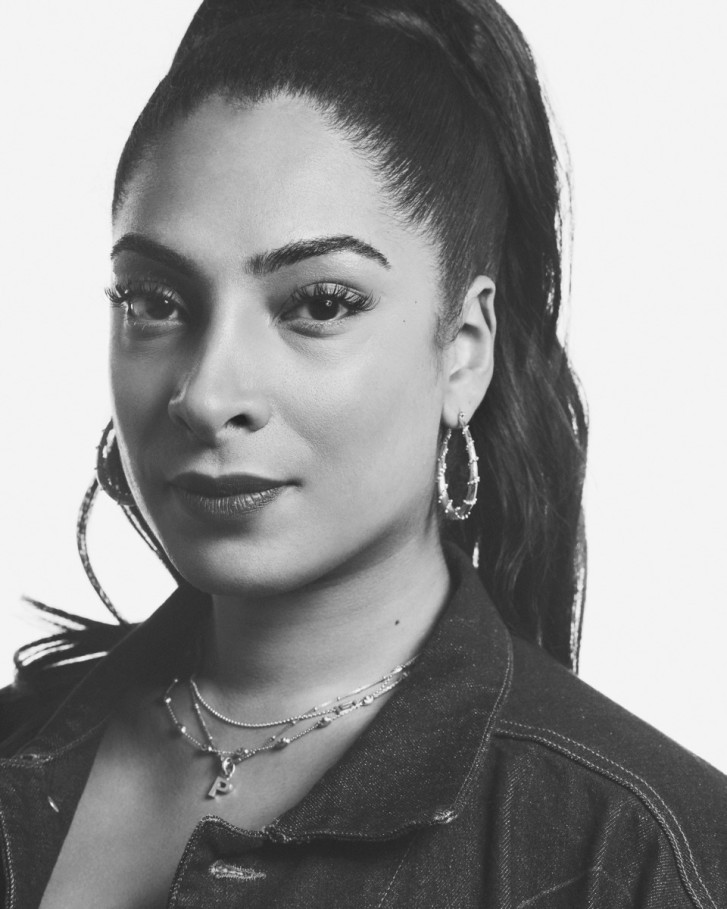 Badal Patel is an independent graphic designer, art director, and photographer who credits her dual cultures for her perspective and love of color. Her aim is to add cultural relevance to the work she creates., and she is the brains behind the branding of several South Asian brands including Kulfi Beauty and Kolkata Chai Co.
Aneesh Sheth is a NYC-based singer, actress, producer, director, writer, and transgender activist. She is most well known for her role as Gillian on Marvel's Jessica Jones on Netflix, and has appeared in Hulu's Difficult People, HBO's High Maintenance and NBC's New Amsterdam. Along with her work in theatre, film, and television, she is an event host, trans activist, panelist and committee member with many national organizations. Last year she received the HRC Visibility Award in Cincinnati.
Maria Thattil, an Indian-Australian creator based in Melbourne, was recently crowned Miss Universe Australia 2020. An advocate of inclusion and diversity, Maria stated in an interview, "I have always championed inclusion and not just limited it to ethnicity but also sexuality, gender, ability. I strongly believe representation matters. A society where every voice can thrive. We need to make space for people to express themselves irrespective of their background."