Shivani's Dil Mil profile jokingly said "love at first swipe", but she was never expecting it to actually happen. She was only on the app for a day when she matched with Sumeet — he had SuperLiked her so he was the first one that popped up when she opened the app. Sumeet had joined Dil Mil over the pandemic partially out of boredom, but mostly because he usually traveled so much that he barely had time to meet people in real life, let alone go on dates. They were instantly drawn towards each other — Shivani pretty much only used the app to talk to him for the two days before they exchanged numbers, and Sumeet deactivated his profile shortly after they met. They both knew this was it!
They talked non stop for 5 days, and since they lived within 15 minutes from each other, they decided to meet in person. Sumeet drove over to meet Shivani after her shift at the hospital and they talked for hours in the car. Their chemistry was undeniable and Sumeet fell in love instantly. In fact, he ended up telling her so on their first date. Shivani was completely taken aback and wasn't expecting this so soon, but she could tell that he was genuine and really meant it. While she didn't say it back immediately, after a full week of hanging out non-stop, she was right there with him and fell head-over-heels. Sumeet believes that they were destined to be together, and that their paths were always meant to collide. They grew up just 15 minutes apart from each other but had no mutual friends and had never met until they both got on Dil Mil in the middle of a pandemic.
They started introducing each other to their parents about 3 months in. Shivani met his parents first, followed by Sumeet meeting her parents about six months in. Shivani and his parents got along immediately, while it took just a little bit of time for Shivani's dad to warm up to Sumeet. Luckily, both families also got along really well too, and they couldn't have hoped for a better outcome. Even circumstances and hurdles like the pandemic (and the fact that they could pretty much only go on car dates) brought them closer together.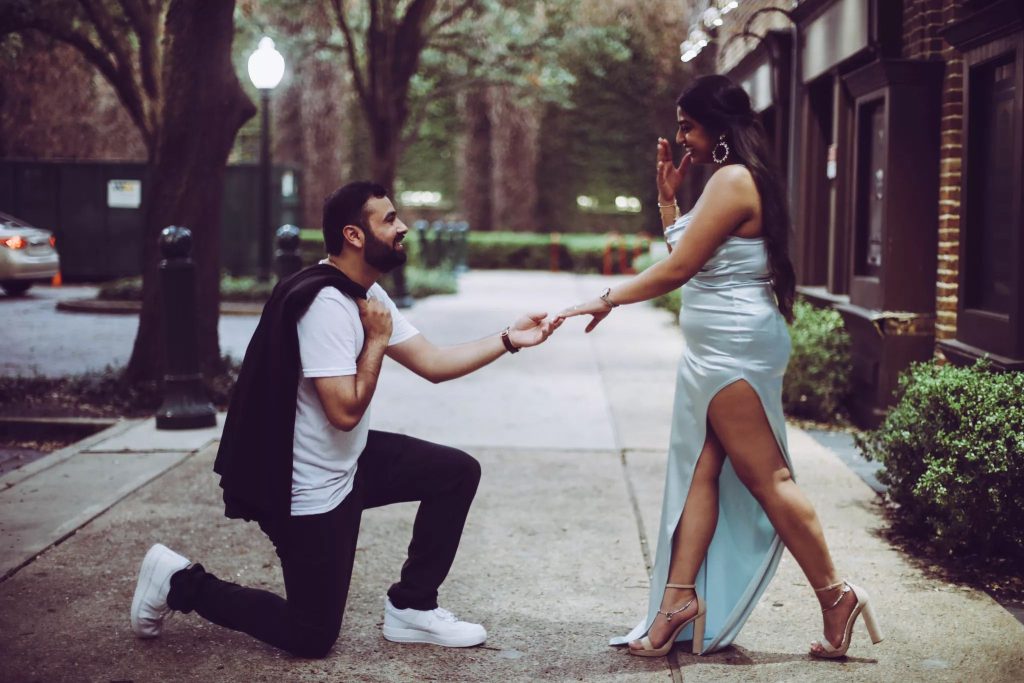 We could tell you about their proposal, or we could just let you watch it in this adorable video that went viral on TikTok! Shivani used to show Sumeet cute TikTok proposals all the time, and he would usually just play it cool and brush them off. He planned the whole thing with the help of his brother, and their friends and family. Shivani thought she was getting ready for a birthday dinner and even went shopping for the perfect dress, but little did she know she was actually getting ready for her proposal! The happy couple is all set to get married this year in an intimate ceremony with close friends and family, followed by a destination wedding sometime next year! #OnceUponADilMil