Nikitha and Harish were looking for something casual when they downloaded Dil Mil; little did they know, they were actually enlisting to fight the ultimate war for love!
While scrolling through the app, Nikitha came across Harish's profile. It was everything you'd normally swipe left on – pixelated, blurry imagery with no biographical information. Yet, within the photos, Nikitha could see that Harish was bungee jumping in one and attending a rave at another. This was more than enough to spike her curiosity and just like that, a pixelated photo sparked the adventure of a lifetime.
Nikitha was about to graduate and all she wanted was a little fun before she started her 80 hour work weeks. She didn't think she would be able to make time for a relationship, yet, the conversation with Harish lined up to be just as exciting as what he was doing in his photographs. The duo ended up talking for hours every day before they decided to meet up two weeks later.
Harish was nothing like what Nikitha had put on her classic dating list. But, he was fun, humorous and adventurous – balancing her out. Having grown up in a family that was more sober and serious, Nikitha realised that the ease and lightness Harish brought into her life is exactly what she needed. She felt like she didn't know how to relax and enjoy life – something Harish was quick to teach her.
For their first meeting, Nikitha borrowed her friend's car and drove from Indiana University to visit Harish at his school in Urbana-Champaign. It was a Thursday night, so they decided to get some takeout for dinner and watch a movie in order to be able to spend some quality time with each other. Since Harish had class the next morning, they called it an early night and instead chose to continue their date with breakfast at Dunkin' Donuts on campus. She waited for his class to end and right after, much to their surprise, they found themselves having made an impromptu plan to drive back together to Indiana University as Nikitha had a sorority event to attend.
The car ride back was filled with memories they still hold dear to their hearts. They bonded over their love for music – she introduced him to Telugu songs while he shared his all time Tamil favorites. By the end of that weekend, Harish had met all of Nikitha's sorority sisters and the rest was history. In fact, only 6 weeks into seeing each other, Harish asked Nikitha to be his girlfriend.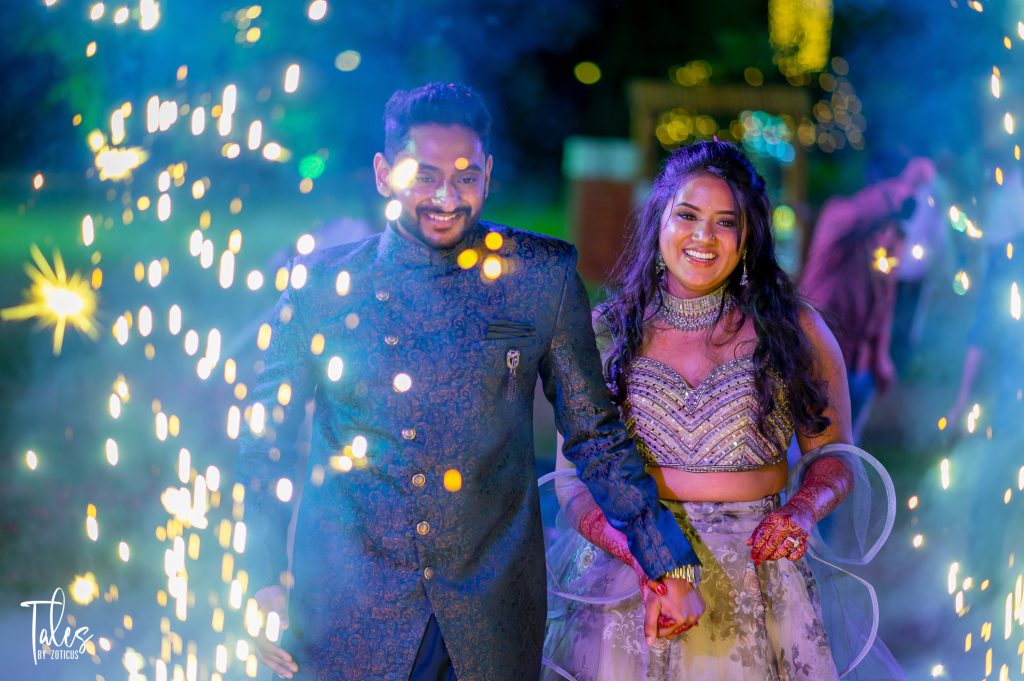 Nikitha and Harish both enjoy exploring different restaurants, going to concerts, watching television shows and hosting friends. Right after graduation, Nikitha had her job training in New York City and the company provided her with a beautiful apartment where they were fortunate enough to spend 2 months together. When she would come home, Harish would have dinner ready, and they found ample time to explore the city from dive bars to Drunken Shakespeare, from stand-up comedy to Coney Island. They even rode bikes all around the streets of New York and Central Park to fill their pokedex for Pokemon GO.

Yet, despite the warm memories that have filled up their relationship, the duo faced their fair share of obstacles over 6 years. Nikitha's parents wanted her to have an arranged marriage with a Telugu man, preferably of the same caste. Harish was Kannada and this was a love marriage. It all escalated right after her parents accidentally found out about Harish just 6 months into them dating and forcibly moved in with her during the last semester of university while also making her block him on all communication platforms (which forced her to communicate with him through a friend's phone). Ultimately, love prevailed, but so did the challenges. Even after their court-marriage, her parents had still not fully accepted Harish, but the couple persevered. The first two years of Covid benefited Harish's dynamic with Nikitha's parents greatly as the couple frequently spent time at Nikitha's parents house. They bonded while playing board games, going out for picnics, and watching South Indian films together. He put in a lot of effort and that finally paid off – now her parents not only fully accept Harish, but also value him as an integral part of the family.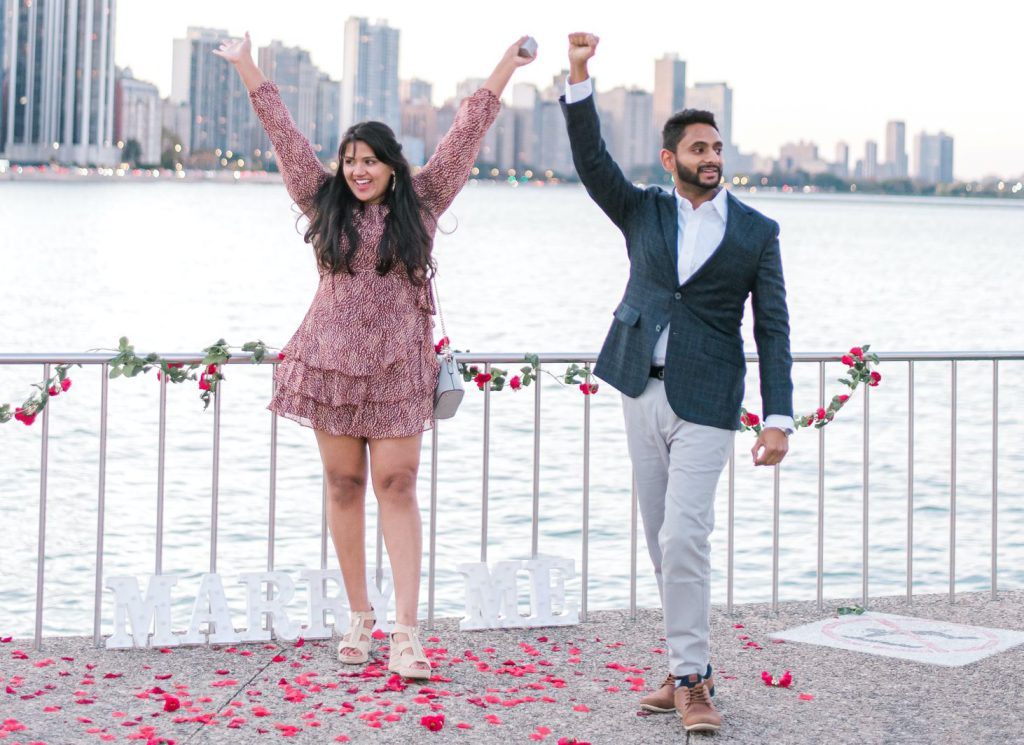 Nikitha said I love you 6 months into their relationship – just because she felt like it. Harish has matched this energy through and through. For the proposal, he planned a 6 stop scavenger hunt with clues leading Nikitha to special spots in Chicago to commemorate their 6 years of togetherness. Each spot had a group of friends or a special activity waiting for them, including a nail salon for pampering, a bottomless brunch, mini golf, and an escape room. Until… the scavenger hunt led her to a hotel suite with her own Princess Diaries moment – an array of dresses, heels and earrings for her to try on and pick from before the final destination. The last stop led to Milton Lee Olive Park, where Harish was waiting for Nikitha on one knee with the cityscape behind them!
Their Hindu wedding ceremony finally took place last year in February 2022 in Vijayawada, India with everyone's family present and joining in the merriment. Guess it is true when they say – 'all is well that ends well'. It's their eighth year together and the duo has never compromised on making their life an adventure together, prevailing against all odds! Talk about a Dil Mil ever after!